The birth of a new premium pizza to enjoy 3 COURSE in order!

From appetizer to main and dessert, each course in one bite size!
Perfect cutting to complete your own gourmet course!

Appetizer: Sweet tomato compote with ricotta cheese and white balsamic sauce for a refreshing taste
Main dish: Bouncy shrimp mixed with Cajun sauce and flower squid seasoned with horseradish sauce! The completion of the main is 100% Korean beef barbecue
Dessert: sweetness of Sweet potato mousse and fromage blanc cream cheese mousse! cheese cake cube makes more sweet!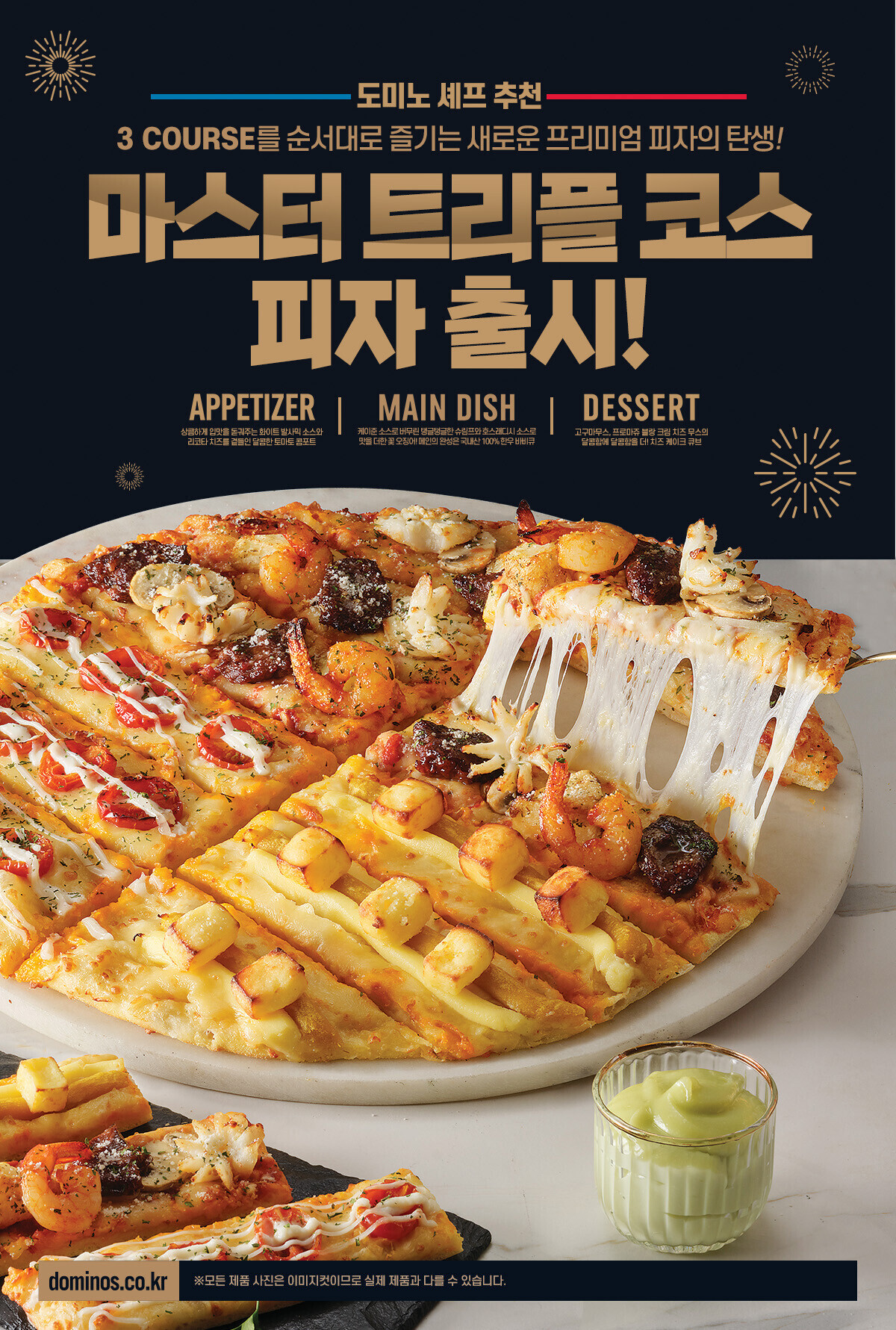 Topping Info
Main Toppings
Tomato Sauce, Mozzarella, Quatre Cheese Fondue, Fresh Ricotta Cheese, Sun-Dried Tomato, Sweet Potato Mousse, Fromage Blanc Cream Cheese Mousse, Cheese cake Cube, Mushroom, White Onion, Roast Potato, Korean Beef Barbecue, Horseradish Squid , Tail shrimp, White balsamic sauce, Parmesan cheese powder, Parsley
Origin Info
Origin
Korean Beef Barbecue (Beef): Korean Beef / Horseradish Squid (Squid): China
Nutrition Info
Name of Product
Total
Weight
Quantity
of once
Weight
(g)
Calorie
(kcal)
Protein
(g)
Saturated
(g)
Sodium
(mg)
Saccharide
(g)
Unit - W, TW, P. SF, Sac : g / Sod : mg / Cal : Kcal